Positive News for a Better World
Taking Care of Street Animals with Love
By Formosa News Group (Originally in Chinese)
The concept of animal protection and caring for lives has been increasingly recognized. It has become an international trend. In Formosa, animal care and protection are not only advocated by government officials, but also openly supported by many private organizations and individuals. These societies and individuals have tried their best to promote the welfare of our animal friends. Here are some examples.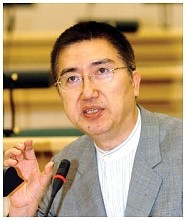 The City Government of Keelung encourages its citizens to adopt more homeless dogs in order to reduce the number straying on the streets. The city government has increased the compensation paid to the adopters for dog sterilization. It is several times more than before, which has ranked Keelung the top for animal sterilizing compensation among the local governments in northern Formosa. In addition, the Tao-Yuan County Agricultural Bureau, together with the Tao-Yuan County Animal Immunity Bureau, hosted a festival entitled "Love Me Always – 2007 Tao-Yuan Pet Day" to promote animal care and environmental protection.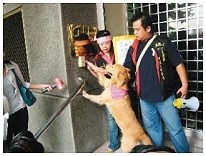 Mr. Lin Hong-chih, a public official of Taipei County who has been a vegetarian for 16 years, has already made many ardent speeches at public vegetarian events to encourage people to go veggie. As an earnest activist for animal protection, he also hosted voluntary clinics for street dogs who had just been adopted during the community service events. The services he provided at the events included basic dog physicals by veterinarians, free veterinary consultations and free parasite treatment. His love and thoughtfulness for the animals won him a lot of praise from the participants of the events.
To fulfill their mission of "Have Love in Your Heart, Care for Dogs and Cats," the Taipei Society for Dog & Cat Care has been the first organization to rescue the street dogs and cats in emergencies and dangerous situations anywhere in Formosa. This Society provides year-around emergency "Dog & Cat 911" services 24 hours a day. The services include detentions, shelters, professional veterinarian treatment and sterilization, and happy home hunting for the animals, all of which are offered free of charge.  (The web site for the Society for Dog & Cat Care is: http://www.lco.org.tw/info/view.asp?id=1 )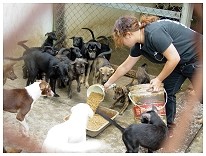 To help more street animals get adopted, the Society for Animal Welfare & Environmental Protection, the Republic of China has opened an "Animal Care Stop" at Taipei Subway Station to provide services that include detention and adoption of animals. Ms. Liu Xiang-lan, the Chairwoman of the organization, stated that the subway station is an ideal location because there are many mini-stores which attract a lot of people, which would help to increase animal adoptions from their 24/7 adoption service. The "Animal Care Stop" has been managed in accordance with the health regulations of the businesses in the subway station. With its various facilities plus an independent air conditioner, it is really a "five star" animal adoption center.
To prevent over population of street dogs, Mr. Chu Tien-i, who is a writer and also a dog lover, established a "Mobile Service for Free Dog Sterilization" with several veterinarians to provide free sterilizing services among the cities and towns in Tao-Yuan County. They are planning to extend the services beyond Tao-Yuan County, should it work well.
♥♥♥♥♥♥ For eight years, Mr. Lee Ho-chuan, a businessman in Chiayi, has donated more than NT$50,000,000 (US $1.51 million) to adopt more than 3,000 street dogs. Each dog has been sterilized and registered in the "dog database" that he designed. Mr. Lee Ho-chuan, Chairman of a mechanical manufactory, has devoted almost all of his spare time to street dogs. Besides taking care of his own adopted dogs, he often brings food in his luxury car to the major parks in Chiayi to feed the dogs. He also hires people to feed them at the scheduled hours at the dog gathering locations, so that the dogs won't suffer from hunger.
♥♥♥♥♥♥ Ms. Huang Qiu-gui, a 67-year-old lady, has adopted more than one hundred street dogs. She feeds them with the leftovers picked-up from the flea markets. She also bathes and disinfects them, to bring a sense of dignity to their life. She has done this on the daily basis for over a decade.
♥♥♥♥♥♥♥♥ Mr. Hou Hsiang-cheng and his wife Ms. Lin Mei-ling, living in Shalu Township, Taichung County has adopted many street dogs for the last 20 years. In order to take care of them, the couple has sold their three houses. Now they live in their vehicle for the convenience of caring for the dogs. They have never felt regret for spending all of their money on those destitute animals. They said animals treat people with their utmost sincerity, without any pretense. Therefore, they will continue to look after these dogs so that they may live a happy life.