Beautiful People and Beautiful Events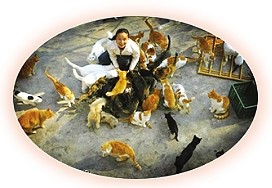 ♥♥♥♥♥♥♥
By a fellow initiate in China (Originally in Chinese)
Miss Duo Zi-rong is a young woman of Daur ethnic descent born in Inner Mongolia in 1969. Around ten years ago, she started saving stray dogs and cats and has adopted over two hundred homeless little animals. Recently, with the help of her family, she has successfully rescued more than 1,300 stray cats from the hands of cat mongers.
On July 6 of this year, Miss Duo was looking everywhere for her pet kitten but couldn't find it. She therefore went to the car park where the cat trafficking trucks park, and discovered that a huge number of cats were about to be delivered to restaurants in other cities. With a firm attitude and wise negotiation, she successfully saved 840 lives. Twenty days later, she was informed by telephone that someone had noticed another truck of cats waiting to be delivered by the cat mongers. She immediately went to the scene, and with the help of her would-be mother-in-law, again saved more than 480 stray cats.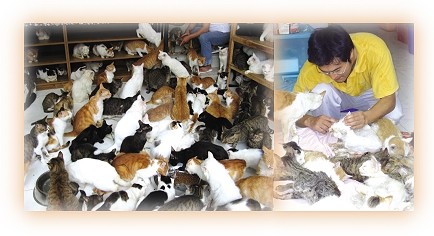 A veterinarian is treating the cats.
Her compassionate actions touched the hearts of many animal lovers and several of them volunteered to adopt dozens of cats from her. Meanwhile, there are still more than a thousand cats living freely and safely in her home. Every day, she has to prepare an enormous quantity of food for the cats and dogs, clean up the environment, and request doctors to treat their illnesses, perform surgeries, and apply intravenous drips, leaving almost no time for herself. Recently she has hired three security and two cleaning staff to protect and take care of the animals, and all the expenditures are shouldered by her boyfriend, Mr. Liu, an economist.
In April, members from The Supreme Master Ching Hai International Association visited Miss Duo and her family. They gave her Master's photos and publications, and introduced her to vegetarian cat food. Being a vegetarian herself, Miss Duo was delighted and said that the cats and dogs also loved vegetarian food. She truly hoped that they would all become vegetarian darlings. She even had the idea to manufacture vegetarian food for her dogs and cats, in order to reduce the expenses of buying food in such a big quantity. This beautiful Daur girl is not only very benign, her pure heart and courage have also touched us deeply.
Fellow initiates giving free pet food
to Miss Duo (left)

Miss Duo Zi-rong
being interviewed by
Supreme Master Television
Miss Duo was very impressed by the absolute openness of Supreme Master Ching Hai, and praised Master for Her exceptional beauty. Both she and Mr. Liu loved the pet houses designed by Master. They are very environmentally conscious and are trying their best to use green products on their cats and dogs. It is their wish that they will be able to enormously improve the living environment of their pets. When browsing through Master's new book—The Dogs in My Life, Miss Duo commented that Master's dogs are highly spiritual, and she sincerely hoped that the cats and dogs that she adopted will also become spiritually elevated.
We are truly grateful to Miss Duo Zi-rong for her compassion and endeavors in loving and protecting the animals, which has set a good example for everyone.