USA
Freedom Day Parade and Happy Independence Day
By Los Angeles News Group (Originally in English)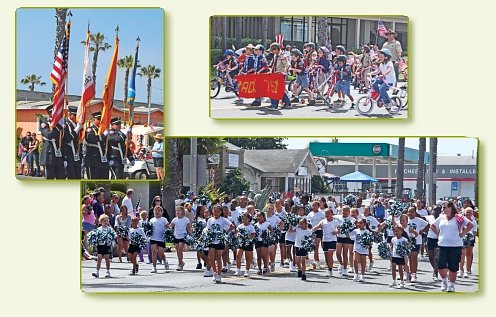 [Oceanside, California] Every year Oceanside city in California, USA, celebrates Independence Day on July 4 with a festival called The Ofest. The Oceanside Festival starts with the "Freedom Day Parade" on June 30 and ends with a 20 minute fireworks spectacular at 9 PM on July 4. This year The Supreme Master Ching Hai International Association in LA was one of the 98 different groups to participate in the Freedom Day Parade. The participants included many different groups from yoga, martial arts, fine arts, classic cars, new invention cars, waste management, to Miss Beauties from different cities, businesses, schools, charity groups, etc.
Parade participants walked through 10 blocks of streets for 2 hours. At every second block, the Ofest officers announced through big speakers which group was entering the parade, their theme and purpose or goal of their organization. As our group entered, we heard: "Coming up is The Supreme Master Ching Hai International Association. Their theme is 'Alternative Living' with 'Change your life,' 'Change your heart,' 'Change your diet,' 'No more killing,' and 'Be healthy and loving.' Please watch online the Supreme Master TV dot com. Welcome the Supreme Master Ching Hai International Association."
Audiences on both sides of the streets applauded, smiled, and clapped their hands when we passed by. Some audience members also shouted out "Go green. Go Veggie. Go Vegan." For every announcement of our group, we had overwhelming responses from spectators. We were very proud and happy and returned their applause with smiles and waving our Universal Flags and hands. We gave away many Alternative Living bags stocked with Alternative Living flyers and Supreme Master Television business cards. As we approached the end of the parade, many adults and elderly spectators could not wait for us, so they rushed out to us to get the free Alternative Living bags.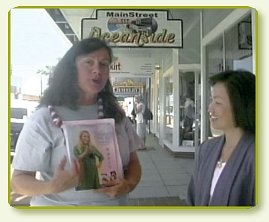 Mrs. Cathy Nykiel, the event coordinator of the OFest, expressed her good feelings about Supreme Master Ching Hai's worldwide compassionate humanitarian activities.
After the parade finished, we met and interviewed Mrs. Cathy Nykiel, the event coordinator of the OFest, in front of the Mainstreet Oceanside office. Mrs. Nykiel has been on many humanitarian missions including in Kuwait, Kenya and Guatemala. Now she is retired but still works in the Ofest office for her own enjoyment. She expressed her good feelings about Supreme Master Ching Hai's worldwide compassionate humanitarian activities over the past 20 years. Regarding Supreme Master TV, Mrs. Nykiel supports Supreme Master Ching Hai's vision that it can connect good people from different corners of the world, furthering harmony and happiness. She also watches the spiritual teachings from Supreme Master Ching Hai on the local channel 18 KOCT every Sunday at 12:30 PM for positive spiritual growth. We really appreciated Mrs. Cathy Nykiel's time, her warm love, and her affirmative beliefs.


---
Bringing Harmony to Community through Diverse Culture
By Boston News Group (Originally in English)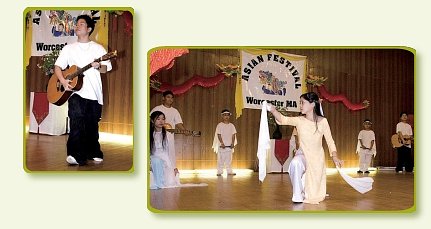 Performance by our young fellow practitioners.
[Worcester] On June 24, Golden Year 4 (2007), several thousand community members came together in Worcester, Massachusetts, USA, to celebrate the Fourth Asian Festival. There were many outstanding performances, including traditional and modern dances, music, martial arts and fashion shows of Aulacese, Cambodian, Chinese, Indian, Japanese, Korean, Laotian, Philippine and other cultures.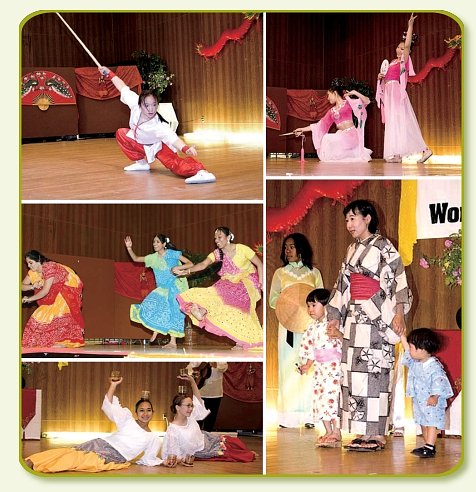 Performances from various cultures.
Besides performing an Aulacese traditional dance, our Association members also volunteered to cook vegetarian food so that the organizers could provide free vegetarian meals for performers. In addition, Boston Center's Supreme Master Television crew was happy to film the entire event for the organizer.
The Supreme Master Ching Hai International Association booth was located in an excellent area and attracted the attention of participants. Many festival goers knew about Master Ching Hai and our Association and some were already vegetarians, including performers. So now they had the chance to learn about Supreme Master Television. Many said that they would check out the online shows. Some even asked to learn the Convenient Method of meditation.
This wonderful event brought harmonious and remarkable moments among performers, volunteers, organizer, vendors, families and visitors. Everyone was very friendly, like one big family. Our world has really been elevated to the harmonious dimension where people with differences respect each other, work well together and learn from each other.

---
Loving and Positive Messages Were Well Received By African Americans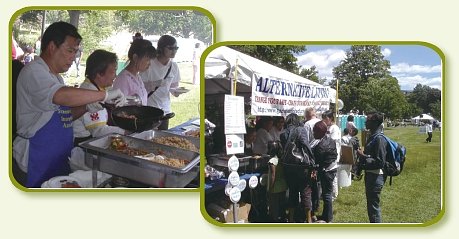 By Boston News Group (Originally in English)
[Worcester] Quan Yin Vegetarian Restaurant participated for the first time in the African American Festival at Institute Park of Worcester Massachusetts on June 23, Golden Year 4 (2007).
Many people were so amazed by how delicious vegan food could be and came to buy our food several times. In our booth, we provided Alternative Living and Supreme Master Television flyers, so that people could have a resource to help them switch to the vegetarian diet. At the end of the day, all of the flyers that we brought were gone.
The event's atmosphere was very relaxing: music, singing, magic show, etc. attracted a lot of people. We met many who are interested in vegetarian food and Supreme Master Television. They would love to watch the Supreme Master Television soon because it is so unique in many ways: it is the only one positive channel, it is free and it is convenient on the internet, etc.
What a beautiful event it turned out to be! People here were not only enjoying the worldly things, e.g. food, music, etc., but most importantly, they also enjoyed the uplifting message which would give them everlasting benefit. It's truly a great experience for everyone who participated!

---
Interview with North West Natural Awakening Publishers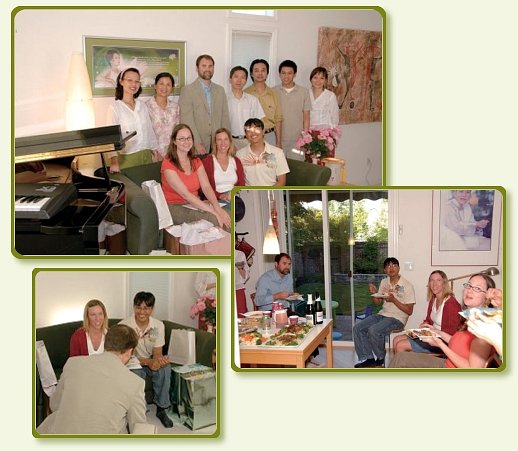 By Oregon News Group (Originally in English)
[Oregon] In the May, 2007 issue of Natural Awakenings magazine, there is a truthful and to-the-point report about Supreme Master Television. It says, "Supreme Master Television is setting the standard for positive television programming. In direct response to the rapid and optimistic changes in the world, Supreme Master Television celebrates the goodness inherent in all human beings and positive events happening around our planet. This humane and socially conscious channel will uplift and inspire viewers with a colorful array of meaningful programs…." Upon learning about the positive reporting of the magazine, Master instructed Supreme Master Television to send a thank-you message and loving gifts to the publisher.
The publishers, a young couple, Erin and Patrick, came to one initiate's house to accept Master's gifts. They were surprised by Master's overwhelming generosity. They were also very touched by the attention that Master gave even with Her busy schedule. The Supreme Master TV Oregon camera crew took this great opportunity to interview this wonderful young couple, who are both vegetarians. They gave up their previous professional career to focus on this meaningful job of publishing the North West Natural Awakening Magazine. It gave them great satisfaction that their magazine provides positive messages to help people at physical, emotional and spiritual levels. They also indicated that they've witnessed increasing positive media, including movies and books, to help the elevation of our Earth planet.
During dinner, after the interview, Erin also asked initiates many questions about meditation. She encouraged initiates to write an article about the Quan Yin Method so they can send it to the Natural Awakening magazine nationwide.
Erin sent a thank-you note by e-mail the following day, in which she wrote, "We truly appreciate your kindness and generosity. We really enjoyed getting to know you all better, and we love the food and gifts. We are learning more about Supreme Master Ching Hai through the DVDs, CDs, media kit and books we received. Please let Her know how much we love our gifts.
We want you to know that we support Supreme Master Television and all that it stands for. Thank you for providing uplifting programming for the world, 24 hours a day. We will share our experience with other Natural Awakenings magazines and with the Portland community, and make sure that they know about you and how you are helping the world.
Please extend our heartfelt thanks to all, and do let Supreme Master Ching Hai know how much we appreciate Her and what She is doing for the planet. Let us know how we can help you spread the word about Supreme Master Television."
It is very encouraging for us to see people, especially young people, are taking the initiatives to bring positive changes to the world. We truly believe that world peace is not too far away.

---
Supreme Master Television Attracts Much Attention at the July 4th Street Fair
By New York News Group (Originally in English)
[New York] On July 4, Golden Year 4, The Supreme Master Ching Hai International Association of New York attended a Street Fair near South Street Sea Port. The Fair is held every year here because many people gather close by to watch the July 4th fireworks at night. The main theme for our booth this year was to introduce Supreme Master TV to the New Yorkers.
A big screen TV, with a powerful sound effect, was used. Almost everyone who passed our booth would turn his/her head toward the TV screen and see Master's photo on the banner above it. Many, attracted by the programs, stopped in front of the TV, and started watching, some remaining for a long time.
We have received many compliments about the programs; especially people appreciated that we "air only the positive news." It was encouraging to learn that most people desire to build a better world, starting from having a positive attitude.
Many Supreme Master TV flyers were distributed. Thanks to Master's blessings, we had a very successful Fair event.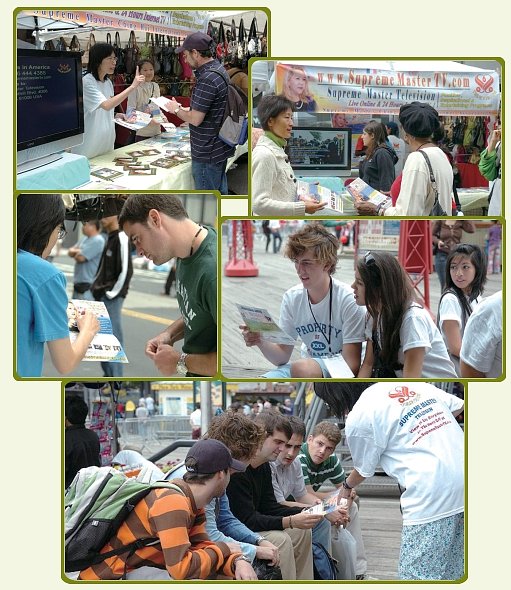 With deep compassion for animals and concerned about repeated outbreaks of epidemic diseases among animals and humans, Master has offered the world a fundamental solution to the problem by personally designing a friendly but convincing leaflet entitled "Alternative Living" to remind people to choose the vegetarian diet and stop killing in order to overcome global medical crises and save our fellow beings. Master has also instructed all initiates to share this message with their brothers and sisters in every corner of the world. In response, the practitioners have initiated an all-out effort to share Her words of love.
To keep pace with the planet's ongoing spiritual elevation, the local centers of The Supreme Master Ching Hai International Association are holding more and more video seminars and other Truth-sharing events.

You are welcome to join in these activities with your friends and relatives. For the latest schedule of our activities, please visit the following URL: http://www.Godsdirectcontact.org.tw/eng/latest_news/events-datebook.htm