Creating a Compassionate and Vegetarian Global Village
| | | |
| --- | --- | --- |
| | Uganda | |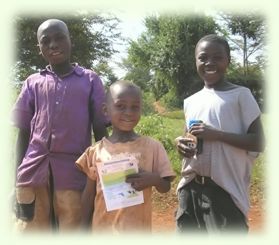 The Pearl of Africa Shines with
the Message of Compassion
Report by Johannesburg News Group (Originally in English)
The land between Kenya and Uganda is truly beautiful. Passing through Rift Valleys, open plains, stretches of African trees, tea fields, rice and sugar cane fields and banana palms, one cannot help but marvel at "God's Back-yard." It is no wonder Uganda is called the Pearl of Africa. It is said that this country could feed the whole world with its fertile lands, free of the need for man-made irrigation systems.
On August 13, Golden Year 3 (2006), a fellow initiate from the Johannesburg Center flew to Kenya to begin Alternative Living distribution in the East African countries, initially focusing on Uganda. On August 19, the 100,000 English flyer shipment finally cleared customs in Kenya.
The following day, the initiate, accompanied by a Convenient Method practitioner, went to Kampala, Uganda's capital city. Since Uganda has the most initiates, it seemed befitting to begin the flyer distribution there, so that the local initiates could continue spreading God's compassionate message throughout East Africa.
The Ugandan initiates warmly welcomed their fellow brothers from afar and sincerely thanked Master for Her loving help. Small distribution teams were arranged throughout Kampala and the neighboring cities, namely Jinja, Entebbe, Mityana, Kitintale, Kibuye, Katwe, Najjanankumbi, Mukhono, Lugazi, Mbiko and Seeta. Within a week, about 30,000 flyers were happily and gratefully received by Ugandans.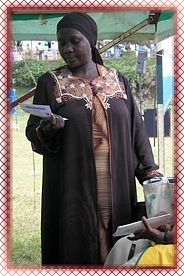 On August 28, initiates were invited to set up a stall at the weeklong "Mega-Corporate Exhibition and Trade Fair" held at Makerere University in Kampala. On opening day heavenly rains cooled and blessed the entire city.  Practitioners beautifully decorated their stand with Master's posters and enlarged Alternative Living messages. "The Real Heroes" DVD played repeatedly via a laptop computer. After watching the DVD for a few minutes, a local Ugandan asked, "How do I get initiated into this method?"
Many people passed by the Alternative Living stall and inquired not only about its message, but also about Master and the nature of Her group. Initiates distributed flyers, photocopy excerpts from Master's lecture "Retrieve the Language of God" and local contact details for future inquiries.  They shared their personal experiences about the reasons for being vegetarian, which seemed to convince most inquirers. When the practitioners answered directly from Master's teachings, this seemed to create a greater understanding in the hearts and minds of Ugandans as Her message is loving, simple, logical and egoless.
A student at the university was drawn to the Alternative Living stand.  She explained that she was a little lost in her life and felt she was missing something. After speaking to a fellow initiate, receiving a flyer and a sample booklet, she left with a big glow in her eyes and a contented aura.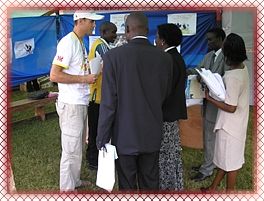 Deputy Dean of Students (the woman in black jacket) of Makerere University visited our stall.
Some of the other special comments from local Ugandans were, "Thank you for the good work", "I think this message is very noble", "Thank you, please continue", "Oh this place is nice". One lady, who works with plants and natural products that help fight diseases, had received the Alternative Living flyer days earlier.  She had taken extra flyers to explain the dangers of a meat diet in her local area. Pleased to find us at the exhibition, she took more flyers to help promote God's message and informed us that she works closely with Uganda's Minister of Health.
Other important university personnel who received Alternative Living flyers and visited the stall included the Dean Faculty of Computer Science, the Deputy Dean of Students and the President of the Student Guild.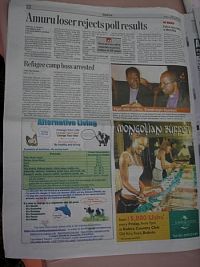 The Daily Monitor displayed Alternative Living message.
On September 1, Uganda's leading daily newspaper, The Daily Monitor, displayed a one quarter page Alternative Living message. Through the loving contribution from a Kenyan initiate, three large double sided poster boards with the Alternative Living message on one side and Master's picture and local mediation center contact details on the other will be placed in main areas around Kampala city in the next few weeks. They will be lit at night and will remain posted for a year.
As the Alternative Living flyers were running out, the South African initiate along with two initiates from Uganda, returned to Kenya on September 4 to collect 40,000 more flyers.  The Ugandan initiates returned to Kampala with Master's compassionate message by public bus and continued spreading God's Love throughout Uganda.