Master Tells Stories
The Day Adam Started to Work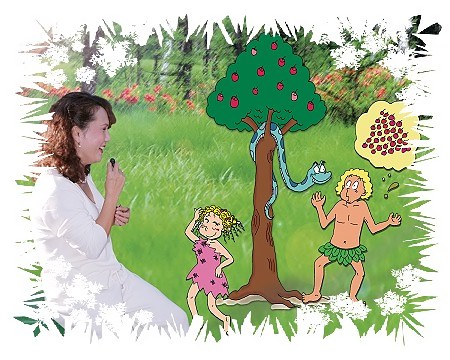 Spoken by Supreme Master Ching Hai,
Three Day Retreat in Hsihu, Formosa, September 22, 1991
(Originally in Chinese) MP3-CR12
I came across a very funny story in a book about "A-dumb" (Adam) and "Idiot" (Eve). (*Note: The Chinese pronunciation of these two names sounds like these meanings.) Do you know them? (Audience laughs and says, "Yes! Adam and Eve.") They lived in the Garden of Eden peacefully just like in Heaven. Everyday they ate, lay under the sun, held hands, talked about sweet nothings and then went to bed. They were happy.
One day when Adam was lying in the hammock (Audience laughs), a snake climbed up and whispered in his ear: "Hey, Adam, do you know what's the most recent style in popular clothes?" Of course Adam didn't know, because he'd never known what clothes were before. So he asked, "Clothes? What are clothes?" The snake said, "Those are the things that cover your body! For example, the outer skin on my body is my clothes. But the clothes you're wearing have never been changed since your birth. That kind of 'skin-type' clothing is not in fashion now! The most popular color is orange."
Adam said that he had no idea about this kind of thing. So the snake said, "Oh! You are so ignorant! What do you do every day?" Adam said there was no need for him to do anything every day. He just found food to eat whenever he was hungry, went to sleep whenever he was tired and chatted with Eve whenever he was lonely. He was very content this way.
The snake said, "There are many things that you don't know, but I am willing to teach you because you are so uncivilized and ignorant. You don't even knowing how to change your clothes." But Adam asked why he had to change clothes. His wife never changed hers, either. It saved money and they were both happy. Why would they have to change? The snake said, "We have to mix with others, wearing whatever they wear. It is more fun to have competition. Besides, we can meditate in order to communicate with God."
Adam said, "I am already communicating with God every day. I live in Hiers garden, which means I communicate with Hirm every day. Why do I need to meditate?" The snake said, "If you have already communicated with Hirm, then you should learn to be independent and to communicate less with Hirm. I will teach you meditation in order to be separated from Hirm." (Master laughs) Originally the snake was talking about communicating; now he changed to separating. Adam was dumb and so he stood there listening.
The snake said, "If you do not want to live a boring life, you can find something to do, such as going to work." Adam replied, "Work? What does that mean? What do you do at work? What kind of thing should you do?"
The snake said, "Well, you can go pick fruits and gather a lot every day." Adam asked, "Why do I need to pick fruits? I only pick enough for me to eat. What's the use of picking so many?"
The snake said, "If you gather 450 apples, I will teach you how to become a civilized man." Adam said, "I have never picked so many before. Why should I do that?" The snake explained that this was his tuition fee. Otherwise, he wouldn't teach Adam.
Adam said he would rather not do it. But the snake said, "You must do it for your wife." Adam asked, "Why does my wife need so many apples?" The snake said, "Because she just learned from me and she has graduated. Now, she owes me 450 apples."
So, Adam started to work very busily for his wife. He originally didn't need to pick so many apples, but now because his wife had become a civilized person, he had to pick apples every day in order to gather 450 of them. Later when "Idiot" (Eve) came home, she had become a civilized person, wearing the most popular makeup and hairstyle. Her hair used to be long and straight, but now it had become like an African hairstyle. (Master and everyone laugh) Her clothes were also very beautiful and the most fashionable. And the more clothes she wanted, the more fruit Adam had to pick.
Gradually, Adam felt embarrassed because he saw his highly civilized wife changing clothes every day while he himself wore no clothes. He then started to have guilty feelings. Do you know now where the guilty feeling comes from? It came from right then and there. Later, he started to learn so-called meditation on how to be separated from God. (Master laughs) Every day, he was busy picking fruits and then buying clothes. In order to afford more clothes, he had to work more. Soon he became too busy to lie in the hammock, enjoy the sunshine and live a leisurely life like before. Eventually, he became more and more separated from God. The more he meditated, the more he was separated from God. From that time on, they started to give birth to humans. Previously, when they had no clothes on, they didn't make any children. Now that they were covered with clothes, they became more curious about each other. That's the end of the story! (Master and audience laugh; audience applauds.)