Love in Action
Helping the Poor and Assisting Students
with God's Love
By a fellow initiate in Northeast China (Originally in Chinese)
In the amber autumn season of Golden Year 3 (2006), fellow initiates at the north border of mainland China divided themselves into five large groups and launched activities of offering love to the poor. It was at a time when school just started, and many children in poor families faced the difficult situation of dropping out of school because of not being able to pay tuition. On the other hand, the winter season was fast approaching, and many old people, children, and handicapped without financial sources were worried about entering the cold winter. Therefore, fellow initiates of different groups brought with them God's love, and prepared monetary gifts, food, winter clothes, quilts, medications, and other material aids, and made a timely delivery of the items to the hands of needy people.
The families fellow initiates visited mainly lived in remote and impoverished counties and cities. Although totally unfamiliar with the regions, with Master's blessings fellow initiates always smoothly found families in urgent need of help. Some of the people, who suffered from both illness and poverty, were in miserable situations, and did not even have money to see a doctor. We also found out that many outstanding and smart children were worried about dropping out of school because of family financial problems. When they received Master's compassionate aids, they were moved with tears in their eyes, and expressed gratefulness again and again. Some people were very surprised at fellow initiates' loving actions, and said emotionally: "There are really such good people nowadays! It is really God's arriving to the world once again!" Their withered hearts had longed so much for this type of unconditional love!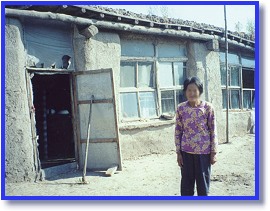 Two elders lived in a crude and broken adobe house, and relied on recycling trash to support their lives. They were sincere Christians, and had been on a vegetarian diet since reading Master's sample book a few years ago. After knowing the reason for fellow initiates' visit, they happily kneeled down on the ground and sang hymns: "God sends angels bringing love …". They also told us that they had inner visions of stars and moon, and were certain that Master was Jesus. Although life was hard, they were fully faithful to God.
When a teacher learned of fellow initiates' activities, she called us and wanted to participate. Later when we went to a poor family, a dog raised its head and wagged its tail to welcome us. According to the dog's owner, it usually would bark and chase after strangers. So its reaction on seeing fellow initiates was very exceptional. The teacher was very much amazed by what she saw. In another family, a five year old little girl lost both her parents, and lived with her grand mother who did not have any financial source. On the way to her home, a group of white geese with their wings expanded wide open quacked and ran toward us to welcome us. This scene gave the teacher more amazement. She emotionally said: "It's very astonishing! I feel that you people possess some kind of power. Otherwise, why did the dog not bark at you, and when geese saw you they opened their wings to welcome you?" A sister initiate answered: "That's the power of God."
The activities we carried out taught us many lessons, and also expanded our love and compassion. God's mercy was like timely nectar that nurtured the hearts of the impoverished brothers and sisters by helping them pass difficult times, and also allowed children who were about to discontinue education to return to school with happy smiles on their faces.