Love in Action
Conveying God's Love to
Typhoon Victims
Reports compiled by the Taipei News Group (Originally in Chinese)
On September 28, 2006, Typhoon Milenyo (international codename: Xangsane) swept across central and northern Philippines, causing heavy casualties and leaving more than a million people homeless. The storm lifted off the roofs of many houses and torrential rain triggered landslides in several areas. Trees and electricity poles were down, causing a blackout over a vast area. The capital city of Manila almost came to a standstill.
Upon hearing news reports about the disaster, fellow initiates from Formosa promptly flew to Manila early on the morning of September 30 to carry out relief work. Before departure, we tried to contact friends in Manila in order to get a clearer picture of the situation, but communication failed due to a power blackout in the affected areas. Therefore, upon arrival in Manila, we started collecting information about the disaster and visited affected areas. We also visited local fellow practitioners to find out what the disaster victims needed. From disaster reports, we knew that the number of casualties was growing steadily, mainly because of severe landslides in Los Banos, Laguna Province. Having cautiously evaluated the situation, the relief team decided to focus on the most devastated areas where other rescue teams had not yet reached.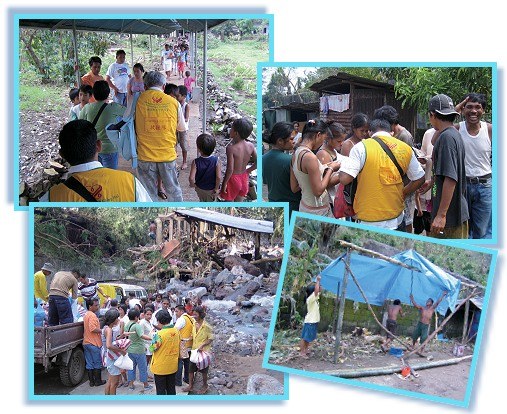 Without power and water supply, Manila suffered intolerable heat for many days. Torrential downpours occurred in the afternoon and evening. Frequent downpours and perspiration were the constant companions of the rescue work.. On October 2, with help from local initiates, our relief team went to exchange our currency into Filipino pesos and purchase relief provisions. Power supply had not been restored, so the bank tellers processed the exchange transaction by handwriting. With two previous experiences in conducting disaster relief in the Philippines over the last two years, we adeptly completed the purchases in a short time. The only obstacle was the intermittent downpours, which caused much inconvenience when checking and receiving the relief materials and during transportation and delivery. However, the relief team overcame the difficulties. For instance, when rain fell heavily as we purchased milk powder for infants, we conducted the negotiation and payment in a car. We are grateful to Master for arranging a local initiate, who spoke Chinese, to help us accomplish the purchases.
Early on the morning of October 3, the relief team set out for Los Banos. Accompanied by city government officials, we visited a nearby affected area and a primary school in Lalakay that had been turned into a temporary shelter. When distributing relief materials there, an old woman told us that she was bedridden due to kidney problems. Fellow initiates immediately gave her some relief cash, which she received with great emotion and tears, and she embraced our fellow initiates. Many victims shared their grief and we tried our best to comfort them. A middle-aged gentleman received Master's sample booklet and photo with great reverence. He hoped that, after they had rebuilt their homesteads, we would visit them again to introduce Master's teachings. Meanwhile, he affixed Master's photo inside his temporarily built abode. His sincerity, coming from the innermost, really touched the fellow initiates.
With assistance from government officials, the distribution of relief material proceeded smoothly. When the disaster victims received the relief provisions, sadness gave way to joyful smiles. Pure in nature, they remained optimistic and positive despite the disaster. When they saw plastic sheets among the relief materials, they promptly used them to build makeshift homes that would shelter them from the wind and rain. It was comforting to see the smiles of contentment on their faces.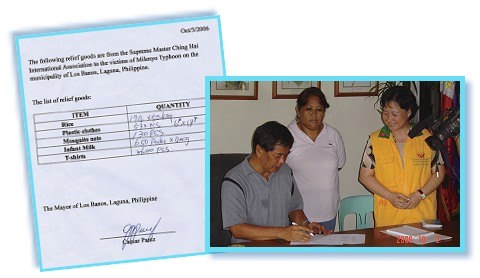 Mayor Caesar Perez signs a receipt for the relief supplies.
After that, we returned to the Los Banos city hall, where Mayor Caesar Perez received the relief supplies on behalf of the victims. Overwhelmed with emotion, the Mayor assured us that the materials would be delivered to the victims as soon as possible. He said that our presence was very important to them. The officer checking the supplies told his colleagues in amazement that the clothing contributed by The Supreme Master Ching Hai International Association to the victims were not used clothes, but brand new T-shirts! Our contribution included mosquito nets, plastic sheets, clothes, rice, and milk powder for infants.
Looking back, we recall that when we first arrived at the affected area, the villagers looked dejected and the atmosphere was cold. However, when fellow initiates started distributing Master's sample booklets and photos, and relief materials, smiles appeared on their faces. They gazed at Master's photo, and some started reading the booklet. Some victims began to build the roof of their sheds with the plastic sheets we had provided. Their faces burst into radiant smiles that immediately dispelled the cold air. Basking in Master's blessing, the victims found new hope and energy. Even the children gratefully said, "Thank You very much, Master Ching Hai!"
We are very grateful for Master's blessings that made it possible for us to share God's divine love with victims in the affected areas, and let them experience brotherly love in this blissful and harmonious global village. Superficially, it seems that we went to participate in relief work. In reality, however, it was Master's love power at work. For the fellow initiates, it was a precious opportunity to grow, learn to care for others, and develop our love from our relief work.


First Time Relief Worker's
Heart-felt Thanks to Master
By brother initiate John A. Dano, Manila, The Philippines
First of all, I want to thank Master Ching Hai for Her love and compassion shown for the Typhoon Milenyo (international codename: Xangsane) victims in the Philippines, especially those victims in Lalakay Village, Los Banos, Laguna. Actually it was the first time that I joined a Relief Operation. I felt so much happiness and pride, not for myself but for our Master, because, if She had not extended Her help, the victims would have been in a misery situation.
While distributing relief goods to those in need, I gave them Master's booklets and photos also. I was really amazed at people's reactions because, it seemed that they forgot their own plight and instead focused their attention on Master's booklets and photos. They came to ask for them, and when they saw Master they seemed really amazed at Her beauty. I noticed happiness in their faces that seemed to say: "This woman is very beautiful!" I felt that Master's beauty relieved and comforted them as well as helped them feel a sense of internal security that they could not explain.
Not only did the victims appreciate what Master did, but also the officers of the Municipality of Los Banos, Laguna. Mayor, Vice Mayor and the Head of Municipal Social Welfare and Development (MSWD) said that without Master's help they did not know how they could have helped the victims. Besides the catastrophe from Typhoon Milenyo, the crisis was further heightened by limited funding, small donations and because 80% of the Philippine Islands were badly damaged. They really appreciated the contribution from The Supreme Master Ching Hai International Association because victims received items that they needed, including food and materials to build tents.
So, to Master I personally say, thank You for Your love and compassion for all sentient beings.

Expenditures of disaster relief rendered by
Supreme Master Ching Hai and Her Association
to Typhoon Milenyo victims in the Philippines
Description of relief items
| | | |
| --- | --- | --- |
| Description of relief items | Amount (Filipino Pesos) | Appendix |
| Food (rice, milk powder, biscuits) | 279,406 | A1~A3 |
| T-shirts | 101,400 | B1 |
| Plastic sheets, mosquitoes nets | 96,950 | B2~B3 |
| Transportation (car rental fees, gas, toll, parking fees, car fares) | 15,959 | C1~C60 |
| Miscellaneous (tool repair, batteries, soldering gun, etc.) | 2,342 | D1~D4 |
| Total |       496,057(US$ 9,970) | |