On February 19-24, the Taipei International Book Exhibition 2002 was held at the Taipei World Trade Center, following an opening ceremony conducted by President Chen Shui-bian. The exhibition hall was divided into five theme and book categories, namely, international exhibitors, children's books, comic books, electronic publications, and general books. There were also four special exhibition areas: Country of Honor, the Cultural Technology Pavilion, the Taiwan Literature in Translation Pavilion, and the Golden Tripod Award and Little Sun Award Pavilion. More than a hundred activities, including speeches, seminars, book-signing sessions and film screenings, were held during the event, which attracted tens of thousands of visitors.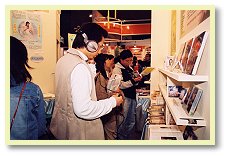 As in previous years, The Supreme Master Ching Hai International Association Publishing Co., Ltd. sponsored a booth at the Exhibition. This year, the theme was "Spiritual Congregation of Wisdom, Love and New Life," and initiates decorated the booth exquisitely, giving it a different appearance than that of previous years. In addition to displaying Master's publications, fellow initiates also exhibited several Longevity Lamps designed by Master. Light from the lamps and the illuminated paintings by Master on either side of the booth created an enchanting atmosphere. TV sets continuously showed lectures by Master, filling the exhibition hall with Her love. Along a nearby corridor was a computer, on which visitors could explore Master's art works and publications. Because the booth was near the entrance to the venue, it attracted numerous passersby, including many fellow initiates and their families. Among the hundreds of exhibits, our booth was the most eye-catching, with its presentation of the music video One World f peace through music, and attracted countless visitors. Several journalists from Hong Kong even came to interview us.
The Exhibition ended at 6 PM on February 24. For participating initiates, the experience of working at the event was extremely blissful. And they were happy that Master's seeds of love could be spread around the area for those who had affinity with Her.