The Latest Program:

ET TV "A Journey through Aesthetic Realms" No. 175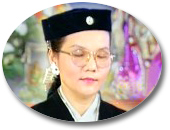 Supreme Master Ching Hai's Lecture:
"Forgive Yourself, Part I," Fremont Hindu Temple, CA., U.S.A., Nov. 25, 1993 (Spoken in English)

Supreme Master Ching Hai reminds us that the real Self never makes any mistakes, and that we should forgive ourselves when we make mistakes or when we cannot help with our habits, because these things also arise from circumstances. It's not truly the Self; it's not truly the soul that desires all these things. So we always have to try again and again, and forgive ourselves, above all.

She also emphasizes that we should meditate on God power so we get the God power coming through us, filling us with joy, virtues and goodness. Because after our power of understanding is open, the wisdom is made to be useful again, then we can understand many things.
The world was hit hard by a sequence of natural and man-made disasters in 2004: An earthquake off the coast of Indonesia triggered a tsunami, devastating 11 countries along the shores of the Indian Ocean. This, along with typhoons and floods in America and Asia…, caused hundreds of thousands of people to lose their lives, while even more lost their homes.

Responding immediately to these disasters, The Supreme Master Ching Hai International Association organized relief activities worldwide, bringing care and support to survivors in the hope that being instruments of Master's divine love, they could comfort people's wounded hearts.

Could the frequency of these natural disasters be a warning sign? Are there things we have been neglecting? Have we been doing something wrong? Facing this temporal world, Supreme Master Ching Hai provides us with a solution for disasters that will not only protect us, but will also raise the spiritual level of this world. Let's listen to the Supreme Master Ching Hai's words of wisdom about the ultimate way to end disasters.